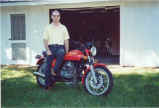 This is a picture of me with my 1980 Moto-Guzzi V50 which I recently restored. Back in England in the late 80's, this bike started a love affair with the Italian marque for me....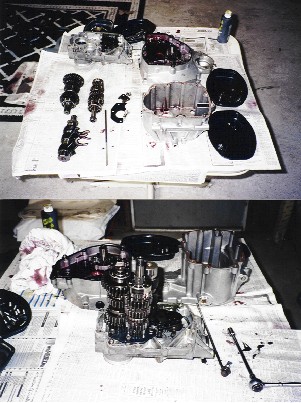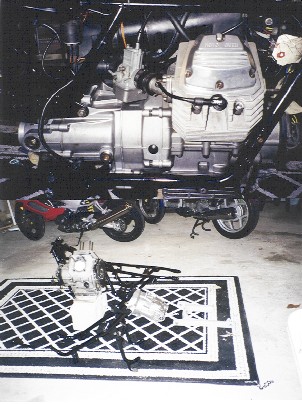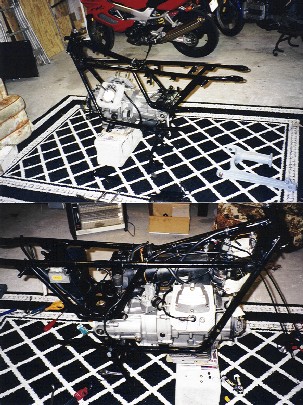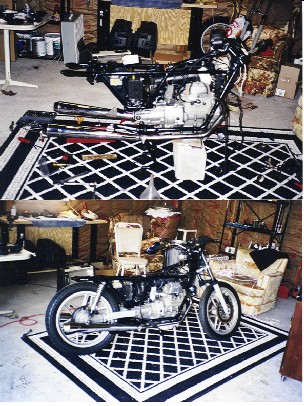 This picture of my beloved LeMans V was taken (spoilt by me a bit I guess) at a Moto-America open house at Lillington, NC. I rode the wheels off this bike. It is incredible how good such an apparently agricultural and old-fashioned V twin can be. Not as much acceleration as modern bikes but fine, stable handling, lots of fun when the road turns twisty.
This was a departure from twins with the smooth, competent and rather boring VFR750. A good bike.....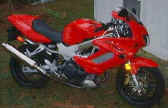 This is a slightly fuzzy picture of my last bike, a Honda VTR 1000cc V-twin. A very fine machine, typically Honda in its' lack of faults for a new design. I really liked it. Not so much character as the Le Mans but so very good at everything EXCEPT range. The tank is way too small for the huge 48mm carburetors' appetite! It was amazing how seamlessly those carburetors worked, being so big. No hiccups or flat spots from idle to wide open. It was bought by a fellow expatriot brit who turned out to have lived near me in England!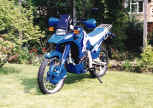 My friend Alan Watt's DR800. I rode this bike across southern Ireland with Alan on his GSX 750 and Jim Ballantyne on his DR650. The DR "Big" was a little big for me but has exceptional low-speed balance and I found that most times in (what little there was) traffic, I could keep my feet on the pegs. Later, while headed back to Farnborough on the M4 from Fishguard I did drop it after filling up. I let the clutch in too abruptly with some lock on the bars, the motor stalled and down we went. I felt a right 'nana'. Rather ironic after having ridden it for two weeks - that was the first time I ever dropped a 'bike. It just had to be somebody else's!!!